Success Stories - Projects
Nov. to Dec. 2015
Kopa visited Imbali to teach Moulage and Animation. The second leg of the cultural and creative exchange saw Manja Eland and Linda Rosink of KOPA coming to Imbali in Johannesburg to teach new skills and techniques.
Moulage with Linda Rosink 2nd and 3rd year Imbali students worked with Linda, a fashion design teacher from the Netherlands. During the four week programme they learned the process of modelling and draping fabric on to a mannequin/doll and designing an outfit, this technique is called Moulage (french word: pronounced Muu'lasz)
Animation with Manja Eland Imbali first year students worked with Manja Eland, an artist who builds her images with shadow, using an old-school overhead projector. With textiles, plants and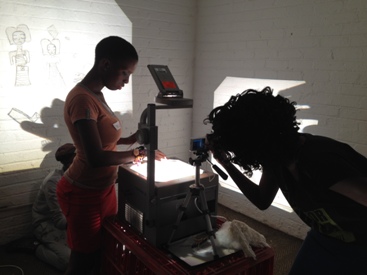 drawing on plastic she creates her own grey scale world. The students learnt her techniques, using overhead projectors and cameras they created short animated stories made from shadow drawings.
'Working with overhead projectors always works its magic, the nice thing about it is that you can keep moving things around, and nothing is fixed until you decide it is finished. This provides a wonderful space to play and experiment.' –Manja Eland
If you are curious about the work Kopa does in the Netherlands click here
2014
Two Imbali facilitators, Connie and Lungani, spent the month of July on a cultural exchange programme in the Netherlands. They worked with Kopa, an arts education organisation, assisting with fabric dyeing and printing.
2013
Imbali was commissioned by the NUMSA Research & Development Institute to make 200 laptop bags. The Institute was delighted with the finished products and our students earned a good income from the project.
Imbali was selected by Masana Petroleum Solutions to benefit from their CSI initiative, which focuses on education and youth. The project involved a substantial upgrade to the equipment and facilities at the Imbali studio, which included sewing machines, work tables, furniture, a wet area for dyeing fabric and computers for the students' use.
Since 2013 Imbali has partnered with the Origins shop at Wits University and has supplied them with textiles and T-shirts as well as specially commissioned conference bags.
Success Stories - Alumni
Sello Mdlane graduated in 2010 from the Imbali 3-year crafts training programme. In 2011 he won first prize in the textile category at the CIT:Y Festival (a Community Development initiative by the City of Joburg's Arts, Culture and Heritage Directorate). This was a bursary of R20,000 which he used to fund an internship with Imbali in 2012. He spent time working in the Imbali studio developing his own range of textiles. These were launched at the Imbali 2012 year-end exhibition 'Work from the heArt' at Campbell House in Johannesburg. Almost all his textiles were sold at this exhibition and Sello's career as a textile designer was launched. 'Imbali has helped me to become an artist and grow my business in textile designing. I have now become my own boss.' – Sello
Bethuel Mapheto acquired an NQF2 qualification in Craft Production from Imbali in 2005. The end of year Imbali exhibition gave him a platform to display his work, which largely consists of unique wall art using plastic bottle caps. He met a good cross-section of craft people at the exhibition and started supplying galleries and shops across the country, including Kim Sacks and the Spaza Gallery. He has exhibited at shows such as Decorex, and won numerous awards, including first prize in the 2007 Johannesburg CIT:Y Merchandise Competition. He registered Noko Designs in 2005 and has his own studio and showroom at the Bus Factory in Newtown. He has also exhibited his products at numerous overseas trade shows in countries such as Italy, Brazil and Korea. This international exposure has helped to establish Bethuel as one of the leading young designers in South Africa today.
Mavis Taole gained a NQF2 qualification in Craft Production through Imbali in 2003 and a NQF4 qualification in Craft Enterprise in 2004-5. She registered her own business, Rare-Zolution Design and Craft in 2005, based on the money raised from the products she created on the Imbali programme using recycled cans. Besides running her own business, Mavis has worked as an art educator at the Origins Centre at Wits University and also conducts training focusing on recycling for other organisations. She coordinates exhibitions for other crafters and is considered a recycling expert.
Masetho Mohohlo After graduating from Imbali in 2010, Masetho worked as part of the Imbali incubator team, sewing and printing aprons and making jewellery. Since then Masetho has started her own business, making skirts, jewellery and bags. 'I have learnt from Imbali that it is important to develop your own unique style and to work with passion and dedication. I have also learnt that your hands are your most important asset as a crafter. There is nothing you can't do with your two hands.'